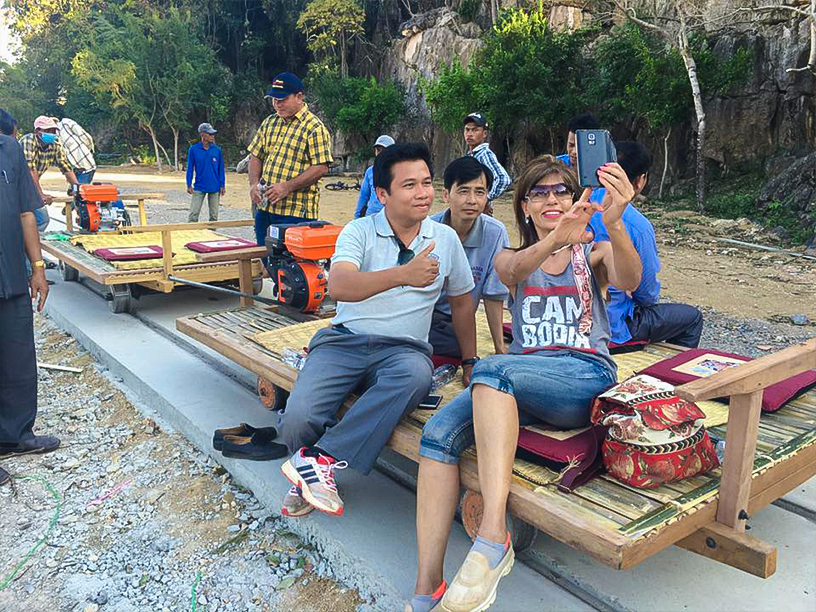 Tour Highlights
Private Tour- Booking Code: EXPCAM
A comprehensive look into Cambodia including Siem Reap, Khmer Homestay, Battambang and Phnom Penh and Sihanouk Ville a beautiful beach town
Tour Itinerary
Day 1: Arrival-Siem Reap (//D)

On your arrival at Siem Reap, our local English speaking guide will pick you up and transfer to your hotel
for check in. Today is free till evening enjoys After Dark Foodie Tour by Vespa (Sharing Tour). Overnight in Siem Reap.

Day 2: Siem Reap (B/L/)

After breakfast, your guide will collect you from your hotel to begin with Angkor Thom entering via the South Gate. Then visit the Bayon complex including Phimean Akas Temple, the Elephant & Leper King Terrace, Royal Palace and Ta Promh Temple. Enjoy a break for lunch at a restaurant set in a garden setting close to the temples (Batchum Khmer Kitchen restaurant). Then continue to visit Angkor Wat, the jewel in the crown of Angkor till Sunset. Overnight in Siem Reap.

Day 3: Siem Reap (B//)

After breakfast, visit to the Great Lake of Kampong Khleang Village – Kampong Khleang is located on the northern lake-edge about 55km east of Siem Reap town, more remote and fewer tourists than Tonle Sab Lake. The area can be reached by a combination of road to Domdek on Route 6 takes one and a half hour reach to dock and then meet a boatman drive another one hour to the village. Kompong Khleang is a permanent community within the flood plain of the Lake, with an economy based in fishing and surrounded by flooded forest. Afterwards return to your hotel to freshen up and enjoy dinner (own arrangement) before we cap the night off with a visit to Phare Circus (Seat B). Overnight in Siem Reap.

Day 4: Siem Reap-Banteay Chhmar (Banteay Meanchey Province) B/L/D)

After breakfast at hotel, we depart by land towards to Banteay Meanchey Province and on your arrival, welcome to Banteay Chhmar Community-Based Tourism (CBT) office. Lunch is prepared by a local women's group under a straw hut and settling into your homestays. Afternoon, we visit Banteay Chhmar Temple and Ta Prohm Temple, Ox-cart Tour through the village and stop at the Silk Center. After a short stop at the homestays, have dinner in the temple with traditional wooden torches. Overnight in Khmer Homestay at Banteay Chhmar.

Day 5: Banteay Chhmar-Battambang Province (B/L/)

Breakfast in your homestay prepared and delivered by CBT (or, in the CBT restaurant), walk through Banteay Chhmar local market, Kuyon trip to Banteay Torp Temple. See rice fields and village life along the way. After picnic lunch at Banteay Torp, we continue our trip to Battambang. On arrival at Battambang check in your hotel and this afternoon, we explore the charming city of Battambang where you can watch the Elegant Houses in the French-colonial style along the river and the Phnom Sampeau, meaning "Ship Hill" in Khmer, due to its distinctive shape, and one of the few hills standing out in this otherwise pancake-flat plain and your visit at Phnom Sampeau will last until dusk – a time when millions of bats emerge from a cave and create patterns as they fly in tandem across the sky – a nightly spectacular show of nature. Overnight in Battambang.

Day 6: Battambang-Phnom Penh (B//)

After breakfast at hotel, we head to the Bamboo Train station. The "train" itself is very basic: one bamboo platform on four wheels, activated by a small motor. Sitting on the train, guests will travel about 5km through a beautiful landscape. Next, we visit to Phnom Banan Mountain. Phnom Banan is a mountaintop, mid-11th century Angkorian-era ruin consisting of five prasats (towers) arranged in the quincunx (five-pointed) form reminiscent of Angkor Wat. Several lintel carvings are in good condition. The mountaintop is a peaceful location with a sweeping view of the surrounding area. Along the way make a stop at Prasat Phnom Banan Winery, Cambodia's only commercial winery. Here there is opportunity for wine tasting that includes a red wine that is a blend of cabernet and Shiraz, a brandy and ginger juice. Afternoon, we depart Battambang to Phnom Penh and on arrival check in your hotel.

Day 7: Phnom Penh (B/L/)

After breakfast at hotel, visit to the Independent Monument, the Royal Palace built by King Norodom in 1866 and the Silver Pagoda. Located within the grounds of the Royal Palace, the Silver Pagoda is so named because of its floor, which is made up of 5000 silver tiles. The treasures found inside include a solid gold Buddha encrusted and weighing 90 kilograms and a small 17th century emerald and baccarat crystal Buddha. Also, visit the Wat Phnom Temple, Phnom Penh's namesake, from where you can enjoy views over the tree-lined avenues of the city. Enjoy a break for lunch at a local restaurant. Then in the afternoon visit the Notorious Tuol Sleng Museum. In 1975 Tuol Svay Prey High School was taken over by Pol Pot's security forces and turned into a prison known as Security Prison 21 (S-21). Then drive a short distance to the Killing Fields of Choeung Ek located on the outskirts of Phnom Penh. Note: Some exhibits are graphic and may cause distress to some people. Afterwards stop for a visit and perhaps some shopping at the famous Russian Market and overnight in Phnom Penh. Note: Proper attire must be worn (no sleeveless tops or shorts) when visiting Royal Palace & Silver Pagoda.

Day 8: Phnom Penh-Sihanouk Ville (B/L/)

After breakfast, we are picked-up for a Rickshaw Ride around Phnom Penh. Sit back and witness thedaily life along the streets of the capital and interact with locals. Later on we stop nearby the Central Market that we explore before sampling some local street food. Wander around the stalls with the guide and feel free to point out some of the local treats you would like to taste. After lunch at local restaurant, we continue our trip to Sihanouk Ville with the distance of 220km to check in your hotel. Overnight Sihanouk Ville.

Day 9: Sihanouk Ville (B//)

After breakfast, today is free on your own leisure & activities for swimming and relaxation on beach andovernight in Sihanouk Ville.

Day 10: Sihanouk Ville (B//)

After breakfast, today is free on your own leisure & activities for swimming and relaxation on beach and overnight in Sihanouk Ville.

Day 11: Sihanouk Ville-Phnom Penh-Departure (B//)

After breakfast, our driver will pick you up for the transfer for your departure flight.
Package Include:
Accommodation including daily breakfast, 5 Lunches, 2 Dinner
All transfers and sightseeing with English speaking guide and all entrance fees.
Full pre-departure information and emergency contact number.
Package Excludes:
International & domestic flights, Visa, Travel Insurance, departure taxes
Personal items and gratuities
CALL 855 (0) 17 783737 FOR MORE INFORMATION AND BOOKING