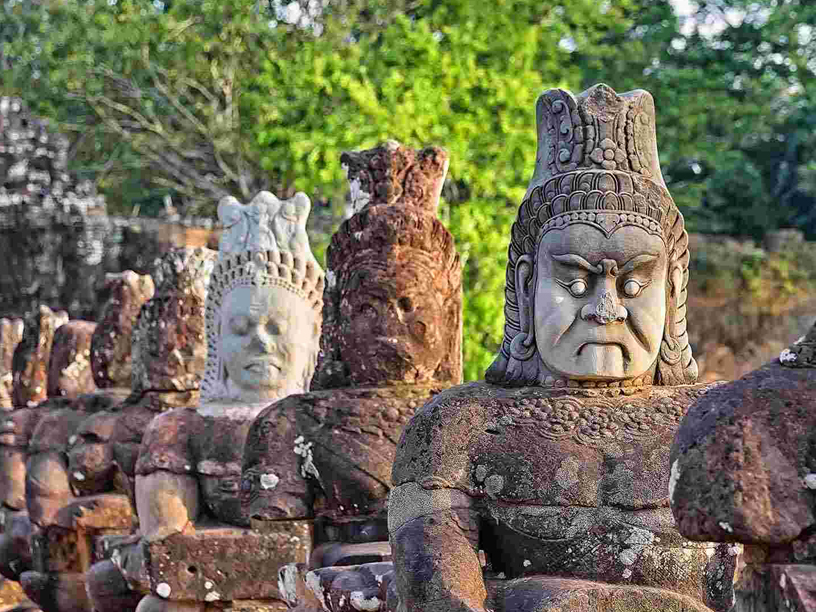 Tour Highlights
Private Tour- Booking Code: BOUT-REP
On this personal package you will see some of the most important sites of Angkor at a leisurely pace.
Tour Itinerary
Arrival-Siem Reap (D)

Arrive at Siem Reap International Airport where your local English speaking guide will meet you for
the transfer to hotel for check in. Angkor is an amazing array of structures and behind these incredible ruins is a fascinating history. Siem Reap, the nearest town to the ruins offers a real insight into the Cambodia culture. After time to freshen up, your guide will collect you form your hotel at 2pm (or later by arrangement). Begin with a visit to the Angkor National Museum for an hour's walk
around this interactive insight into the history behind Angkor. Then continue on to the Artisans D'Angkor Silk Farm for a tour to see how this amazing material is created all the way from silk
production to weaving. Then visit the 'Old Market' to see the variety of stalls and products. After time for shopping or exploring continue on to dinner at Mei Café restaurant before we cap the night
off with a visit to Phare Circus (Seat A). This spectacular event, held under a traditional big top tent, Phare is a non-profit Cambodian association improving the lives of children, young adults, and their
families with art schools, educational programs, and social support and overnight in Siem Reap.

Day 2: Siem Reap (B/L/)

Best of Angkor – 1day tour to see the best temple complexes of Angkor. Your guide will collect you from your hotel to begin with Angkor Thom entering via the South Gate and the Bayon complex. The vast area of the Angkor Thom ruins, over a mile on one side, contains many stone temples and other features to explore. The city has five monumental gates (one in each wall plus an extra in the eastern wall), 20m high and decorated with stone elephant trunks and the king's favourite motif, the four faces of Avalokiteshvara. The Bayon Temple (circa 1190) is a Buddhist temple but retains elements of Hindu cosmology and imagery. Standing in the exact centre of the walled city, it represents the intersection of heaven and earth. It is known for its enigmatic smiling faces of Avalokiteshvara and its extraordinary bas-reliefs. Enjoy a break for lunch at a restaurant set in a garden setting close to the temples (set menu III). Then continue to visit Angkor Wat, the jewel in the crown of Angkor. Angkor Wat is the best preserved example of Khmer architecture in Cambodia and is so grand in design that some rank it among the Seven Wonders of the World. It appears on the Cambodian national flag, a very rare instance of a flag incorporating an image of a building. The "lost city" of Angkor first attracted the interest of Europeans in the 1800s after Cambodia was colonized by the French. Return to your hotel.

Day 4: Siem Reap-Departure (B//)

Morning at leisure before a transfer to Siem Reap International Airport for departure flight (with driver only). End of services.
<h2>Fill in the Booking Form</h2>

Package Include:
All accommodation as stated including daily breakfast, 1lunch, 1dinner
All sightseeing including entrance fees
All transport in air-conditioned vehicles
Local English Speaking guide and pre- departure information.
Package Excludes:
International flights, Visa & Travel Insurance
Personal items and gratuities
CALL 855 (0) 17 783737 FOR MORE INFORMATION AND BOOKING